A generous land and sustainable agricultural production. A landscape full of contrasts, green, ocher and yellow...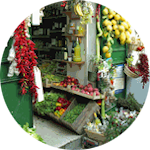 The olive oil is the essence of the healthy Mediterranean diet.
Your Weight in Gold
The last award, D. Maximum León, of the town of Torrijos got their weight in oil accompanied by his family.
A selection of the best fruits harvested at the optimum time to produce a quality product.